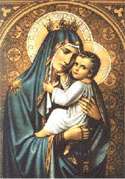 Welcome to Lone Burro Designs, an online showcase for original, handmade jewelry and fine Catholic rosaries. Here you will find an exceptional selection of rosaries, and rosary related jewelry including rosary necklaces and rosary bracelets, created from semi-precious stones, handmade lampwork glass beads, crystals, and precious metals. The links above will take you to the online catalogs where you can browse through photos and descriptions of these unique creations. New jewelry and rosary designs are posted throughout the month.
Lone Burro Designs' custom beaded rosaries are designed to inspire and delight the heart. Every one is beautiful to look at, but usable for one's daily prayer. A variety of precious materials and techniques are used to create one-of-a-kind rosary beads. I can also design less expensive rosaries should you need one. Please ask.
Inquiries for custom designs are welcome. If you have an idea for your own special jewelry or rosary creation, please write to me. It will be my pleasure to use my skills, craft, and inspiration to design your own unique jewelry item or rosary beads.


A convenient way to make instant electronic payments and credit card payments over the internet.


I list on eBay under the Seller name, "loneburrodesigns".
The World's most complete and accurate on-line Catholic Church Database & Search Engine. Over 20,000 listings. Updated daily! Find Mass Times, Bulletins, Maps, Diocese, Schools, and more.
Catholic Doors Ministry
A great source for rosary and chaplets prayers, bible studies, church documents, the Saints and Martyrs, and so much more!

Welcome to BibleGateway.com, a free service for reading and researching scripture online-- all in the language or translation of your choice! We provide advanced searching capabilities based on keywords or scripture references, and various tools to enhance your study of the Bible.
Ecumenical Miracle Rosary
This site provides an ecumenical approach to praying the rosary for Christians of all denominations.
Keepsake Rosaries
Family-based business featuring rosaries made from flowers from your memorable occasion, and specializing in wedding and funeral rosaries.
Craft Site Medic
Arts and crafts website marketing, advertising, and promotional services.
Plasa Bali Beads & Sterling Silver Jewelry
Offers bali silver beads and sterling silver jewelry direct from Bali.
Bali Sterling Silver Jewelry Wholesale - Cheapest Prices for Jewelry Silver
Bali silver beads online wholesale and cheapest prices for silver jewelry
Walsh Brothers Clocks Watches and Jewellery
Jewellery shop based in Beckenham Kent England. A very wide range of selections including gold crosses and crucifixes. International delivery available.
Jewellery
UK Jewellery retailer with over 10000 unique and original jewellery items in silver, gold and platinum.
Beads HQ
Everything Beads, from Acrylic Beads to York Beads.
Angel's Keepsake Cottage
Birthday Gifts, Anniversary Gifts, Graduation Gifts, and gifts for any occasion. We have everything from bird feeders to western decor. Everything's at least 20% off and shipping is $5.00/order.
---


Previous | Next | Index | Random
Click Here to Visit Sacred Strands: Resources For Prayer Bead and Rosary Lovers

Arts & Crafts Banner Exchange by Craft Site Medic
Sea Crest Crafts & Jewelry
VISIT



The Oldest And Largest Craft Directory On The Web


Sun Country Gems

Just a click away, but light years beyond an ordinary bead shop.


[Ordering and Policies]
[What's New] [Jewelry Catalog] [Rosary Catalog] [Bridal Catalog] [Gallery] [Links] [Home] [E-mail]
Copyright © 2002-2004 by Lone Burro Designs. All Rights Reserved
design by Pixel Stationery