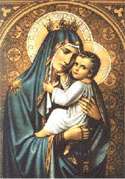 Welcome to Lone Burro Designs, an online showcase for original, handmade jewelry and fine Catholic rosaries. Here you will find an exceptional selection of rosaries, and rosary related jewelry including rosary necklaces and rosary bracelets, created from semi-precious stones, handmade lampwork glass beads, crystals, and precious metals. The links above will take you to the online catalogs where you can browse through photos and descriptions of these unique creations.
Lone Burro Designs' custom rosaries are designed to inspire and delight the heart. Every one is beautiful to look at, but usable for one's daily prayer. A variety of precious materials and techniques are used to create one-of-a-kind rosary beads.
Since most orders are custom, and bead and wire prices flunctuate, rosary designs in the catalog do not have a price listed or a means by which to order directly from the website. Please send an inquiry for any designs or custom orders you are interested in.
Rosaries are an inspiration to prayer. They make excellent gifts for brides and grooms, Quinceañeras, and parents on their wedding anniversary. They are an obvious choice for First Communion, birthdays, and any special occasion.
A beautiful, heirloom rosary should last a lifetime. I meticulously construct my custom rosaries using durable, flexible jewelry wire, or sturdy wire wrapped links handmade from 14K gold fill and sterling silver wire. I can meet most anyone's budget, but I do not compromise on the construction of my rosaries!
What's New! I am now caught up and working on new orders for custom rosaries, including several sterling name rosaries for upcoming First Communions. I have also designed a couple of single decade chaplets, one in mother of pearl, the other in sapphire and 14K gold. Please see these newest creations on the [What's New] page. These will give you more ideas for your own custom project.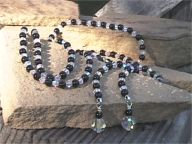 Designing jewelry is a long-time love. My first jewelry design was a sterling silver and Swarovski crystal necklace using wire wrapped links for the bead connections.
I have now expanded my jewelry designs to include semi-precious stone and lampwork glass beads. I make beaded jewelry items including necklaces and necklace sets, chokers, lariats, earrings, bracelets, and anklets, but now focus on religious jewelry primarily.
My favorite components include Swarovski crystals, unique lampwork glass beads, and interesting precious metal beads. You will find many of my designs complement both casual and formal dress.
I got started in the "business" of making rosaries as an afterthought to starting a jewelry business. Funny how things work. I had been interested in creating my own jewelry designs after going broke on eBay purchasing others' beautiful designs. I was especially intrigued by lampwork beads and purchased my own kiln, glass rod supply, and took classes using hothead and minor burner torches. Very soon, however, I felt inspired to apply my jewelry techniques to creating one-of-a-kind rosaries. Being a cradle Catholic born in New Orleans, I had childhood memories of St. Joseph altars, beautiful cathedral-like churches, and of course, the rosary. It felt natural to make rosaries as well as jewelry. Once I'd decided to apply wire wrapping and jewelry wire design to the art of making custom rosaries, I knew I'd found my way.
The Lone Burro name itself came from a scene I viewed from a bicycle while pedaling across Vermont. It was Day 3 of a week long trek across the New England states in 2001. I looked to my right and there in a field of long, green grass was a lone burro, reclined on the ground, head peeking above the grass, shaking its long ears while it soaked in the sun. When I arrived home, I hand drew the image of the burro in Microsoft Paint, of all things. The Lone Burro has been with me ever since.
Ordering and Policies
[What's New]
[Jewelry Catalog]
[Rosary Catalog]
[Gallery]
[Links]
[Home]
[E-mail]
Copyright ©2002-2009 Lone Burro Designs. All Rights Reserved
design by Pixel Stationery